Metamask Wallet is available as a browser extension as well as a mobile app (Android and iOS). We will learn how to install metamask wallet by two ways.
Metamask Wallet Supports many other networks/smart chains other than Ethereum:
How to Add BSC to Metamask Wallet
How to Add Avalanche to Metamask Wallet
How to Add Polygon to Metamask Wallet
WHAT IS A METAMASK WALLET?
MetaMask Wallet is primarily a cryptocurrency wallet based on the Ethereum blockchain. It is one of the safest and widely used crypto wallets. With over a million users worldwide, it has become a leading cryptocurrency wallet in the market.
In this article, we will list down the steps to install metamask wallet as a browser extension and as a mobile app.
MetaMask displays standard ETH and ETH-based tokens. You can manually add other chain of tokens (BSC, Avalanche, Polygon, etcetera) to your MetaMask wallet to invest, trade, play games, own unique digital items (like NFT collectibles) etcetera.
STEPS TO INSTALL METAMASK WALLET AS A BROWSER EXTENSION
You can install MetaMask wallet as a web browser extension on Chrome, Firefox, Brave, and Edge. We are using Google chrome for the tutorial; the same steps can be used to install metamask wallet as an extension for other browsers as well.

To install the Metamask wallet in the Chrome web browser, you can either go to Chrome Webstore and search for the Metamask extension or click here. Click on "Add to Chrome".

Or you can also go to the MetaMask website here. Click on "Download Now".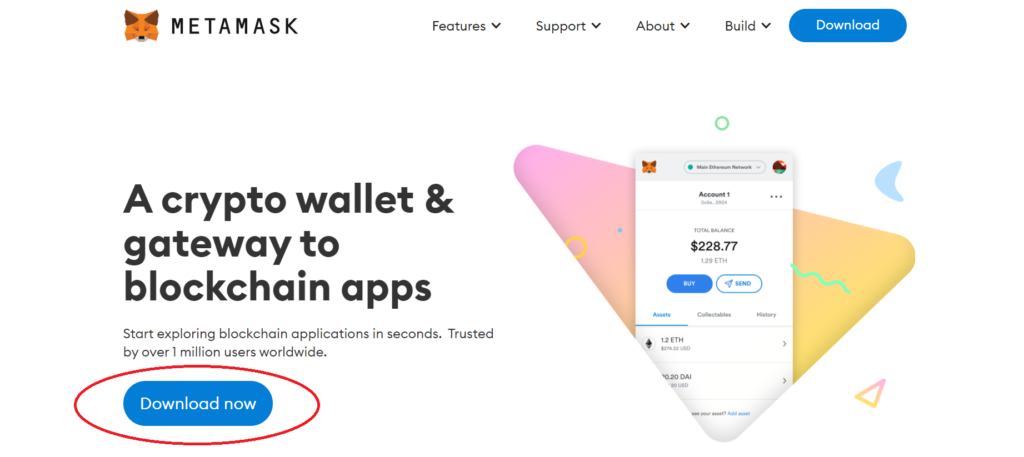 Select "Install MetaMask for Chrome".
After the completion of installation, the MetaMask icon i.e., orange fox face will appear on the top right corner of your chrome browser.
Click on the MetaMask icon and click on "I Agree" appearing at the bottom to agree to the 'terms and conditions' of use.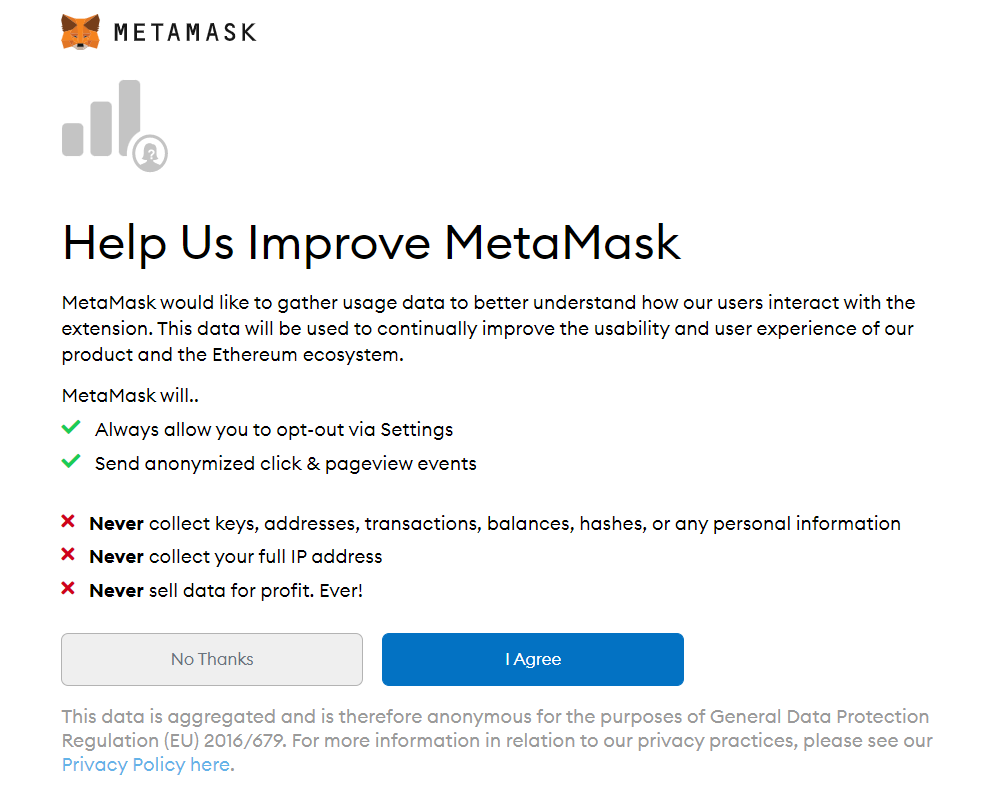 Create a strong password, type and re-type it in "New password" and "Confirm Password" respectively. Click on "Create" to create a new Ethereum account.
Or if you already have an account you can click on "Import Existing DEN".
Now you will be given a unique 12-word Secret Recovery Phrase that will serve as a master password to access or restore your MetaMask account in case you forget the password.
MetaMask will not allow you to access the account if you don't have the password so, you are advised to store this 12-word secret recovery phrase in a safe place. Noting down in your diary and storing it in USB is recommended.
Select "I've copied it somewhere safe" or "Save seed words as file" and you are done. Your MetaMask wallet is all set to use.
Confirm your secret backup phrase and Proceed ahead.
Congratulations, your new crypto wallet from Metamask is now installed.
You can find your MetaMask address by clicking on three dots and click "Copy" address to the clipboard.
STEPS TO INSTALL METAMASK WALLET AS A MOBILE APPLICATION
You can download and use the MetaMask app on your Android or iOS phone. The process to install MetaMask wallet (new) is the same as described above.

If you are already a Metamask extension user and want to use the same wallet in MetaMask mobile app, follow the steps given below:

To download the app, go to the Metamask website or click here. Click on "Download Now".


Or you can also download MetaMask from 'Google Play store' or 'Apple Store'.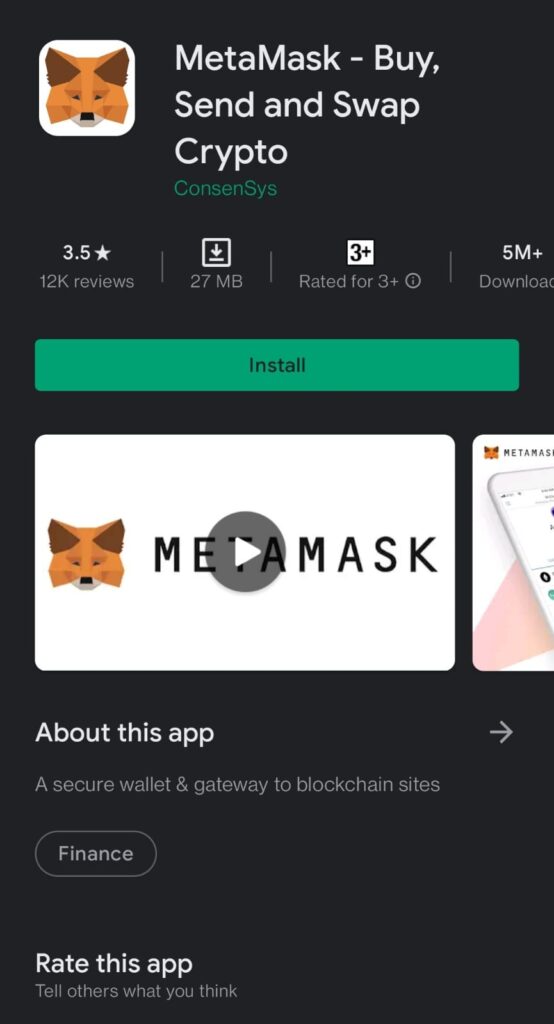 Select "iOS" or "Android". Select "Install MetaMask for iOS" or "Install MetaMask for Android" respectively.
After the installation is complete, open the mobile app. Click on "Get started."


Select "Sync or Import" and then "Scan QR Code."
Log into your MetaMask extension on the web browser.


Click on "Settings". Select "Advanced" and then "Sync with Mobile."
You will see a QR Code. Scan this QR code using your MetaMask Mobile app and you are good to go.


This is the process to install MetaMask wallet, we hope that you find the article helpful and it helped you answer your questions.
If you have any question or confusion regarding the process, please comment it down below for us to answer.
Share your thoughts in the comment section below, we'd love to read it.